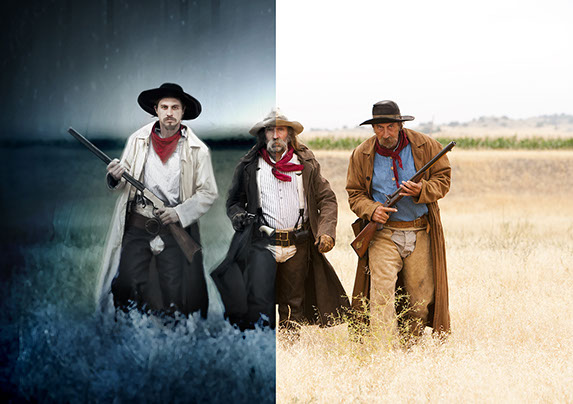 It all has to start with a great image.
Rick works with Cowboys and Indians around the country photographing their everyday lives and setting up scenarios of days gone by. Notes are made. Thoughts for post work are jotted down, colors and textures for backgrounds are considered.
In the post production process, Rick works closely with two digital artists who have worked for him for years at Meoli Digital, Kevin Passmore and Glen Gillespie. Rick, Kevin and Glen discuss each image to be worked on as thoughts and ideas are bounced off each other.
Pulling inspiration from traditional printmaking, painting and wet plate photography, Kevin and Glen leverage their professional experience as digital artists to bring Rick's vision for his western artwork to its final state.
The next step in the process is the print making. Rick works exclusively with Bullivant Gallery Fine Art Publishing in St. Louis.
Museum Quality Reproduction:
Esattezza Arte®, (ay-zaht-tay-tzah art), This is a proprietary capture, work flow and printing process. Museum-quality, archival limited edition prints with unrivaled accuracy, detail, color fidelity, and permanence.
Image preview and enhancement: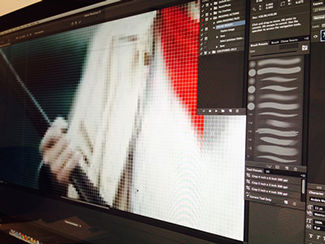 All of our files are previewed and corrected exclusively on Eizo's flagship CG221 monitor, the only monitor that will accurately display over 99% of Adobe 98 color space. We use Adobe Photoshop and other proprietary software to process, retouch, and optimize our digital captures so that it will maintain all the subtle details and color accuracy of our original art.
Workflow:
Once the retouched file has been approved, Bullivant creates a series of proof prints to help me determine which materials will lend the most to the original and if any changes might be made to the electronic file. We collaborate and view these proof prints in a color accurate lighting environment, to discuss options and any final adjustments before producing the final prints.
Inks:
We use only high pigment load, waterproof inks that have verified fade resistance in excess of 150 years when printed on our Museum papers. Bullivant's digital hardware is specifically calibrated for both color and black and white reproductions. The color printers features a twelve-color, enhanced gamut ink group for unsurpassed vibrancy and color accuracy, and our gray tone printer is specially suited for the reproduction of pure black and white original works of art.
Papers:
We use archival Museum papers made from 100% cotton rag with no (OBA's) optical brightening agents. These papers are available in a variety of textures and weights up to 60" wide.
Esattezza Arte® vs. the competition:
When researching art reproduction it is important to determine the quality of the paper and the inks used, the capabilities of the printing equipment, and the knowledge and commitment of the technician and company you work with. Many printing options exist, so it's critical that an artist research and understand how and why a specific process and company will benefit their artwork's reproduction.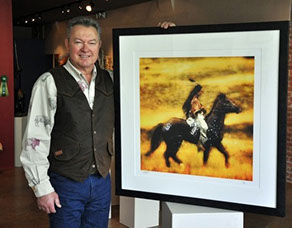 In the past decade, iris printing was a popular method many artists used. While sharp and saturated, Iris prints are inherently fragile because they are not water fast, and the dye-based ink sets have less than 50 years fade resistance. In contrast, the prints created at Bullivant Gallery have 150+ years fade resistance, and are completely waterproof.
Today, many artists are using a process called giclée. Giclée is a generic terminology that describes the process of "spraying ink on paper" and nothing more. Most notably, it has no reference to the quality, longevity, or color accuracy of the process. It also has no reference to the electronic file preparation, a critical component to the production of a beautiful print.